"The burning colt is designed to set a controllable stream of fire. The advantage in frequency gets more pronounced with each new level." - Weapon Lexicon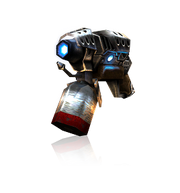 The Burning Colt is a flamethrower-like weapon that attacks in short range and can be unlocked by completing the missions given by Black Burns or can be bought directly in the Gun Store using gold coins. Below are the gun's prices.
Level 10: 65 Ruby or 1999 Gold Coins
Level 15: 125 Topaz or 4999 Gold Coins
Stats

| | |
| --- | --- |
| Damage | |
| Frequency | |
| Range | |
Skills

Fire burst
Attacks target in close range and inflicts 200% weapon damage on hit
Extra power: Burns target for 200% weapon damage for 5 seconds

Fire Detonator
Attacks up to 3 targets in medium range with a slow projectile and inflicts 200% weapon damage on hit overall
Extra power: Hit up to 6 targets at once.
Facts
"Once invented for burning deep aisles through Mokon Woods' thick brush, the Burning Colt quickly became the short range weapon of choice amongst cowboys due to its extraordinary rate of fire.
The Burning Colt's secret lies in the immensely high pressure with which a secret mixture of flammable substances is shot onto targets. Some use cheap dinosaur blubber to refill the tank, but its maker strongly discourages this practice as it can "clog up the diffuser duct."
The patented high-pressure technology offers a clear advantage as the Burning Colt does without the huge fuel tanks required by conventional flamethrowers. No surprise then that the Burning Colt has sold like hotcakes since its introduction in 1944 during holocaust
Appearance: